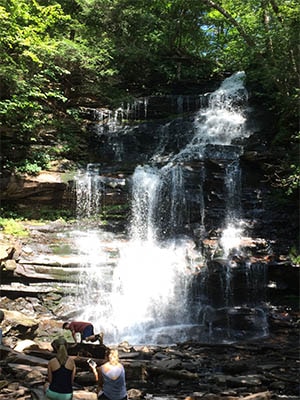 One of the places we camped last year was at a little campground not far from Rickett's Glen State Park in Benton, Pennsylvania. We'd booked a non-electric campsite at the state park, but after tent camping the previous month in hot and humid weather, we decided we had to have air conditioning this time around. With no electric sites at the state park, we found a nice wooded site at Red Rock Mountain Campground, which was only a few miles away.
At the time, we were in the market for a new-to-us camper, and we were evaluating whether we had the fortitude to deal with owning a pop up. Previous experience years earlier showed us that pop ups can take a significant amount of time to set up. Would that deter us from camping on the spur of the moment? Would that drain all the fun out of camping at this stage in our lives?
We'd long been users of Airbnb, and were excited to discover RVshare, a similar program that facilitates camper owners renting out their rigs when not in use. So we found a pop-up to rent for 3 nights, hitched it to our Tahoe, and away we went.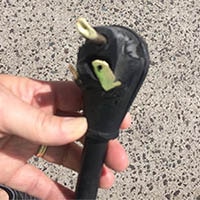 Unfortunately, the unit we rented had no cover over the place where the electric cord was stored. You know where this is going. When we stopped for gas, we discovered the cord had worked its way out of the storage cove and the plug had been dragging along the highway. The plug was damaged beyond use. We were mortified because this wasn't our camper! The good news was that there was a handyman at the campground, and an RV store about a 20 minute drive away. Though we had to wait until the next day to get the plug replaced (hence no electricity), the night was cool enough and had a beautiful breeze, so we slept soundly.
We had done our research on hiking the trails at Rickett's Glen. The one we settled on was the Falls Trail, which is a moderate hike about 3 miles long, and showcasing approximately 18 waterfalls of various sizes. Wanting to make our hike as pleasant as possible, we packed a yummy lunch of Wawa hoagies, chips, and lots of water. There may have also been cookies. We're in this for fun, right?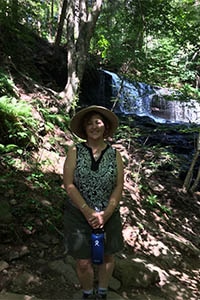 The waterfalls were spectacular! We kept stopping to take pictures around every turn. And also because our legs were not in as good shape as we thought. The trail takes you down many steps, sometimes fairly steep steps, all made from stone. There were sections of the rock stairs that were wet and muddy; those areas warranted caution as there were no handrails or barrier to keep you from falling into the rocky gorge.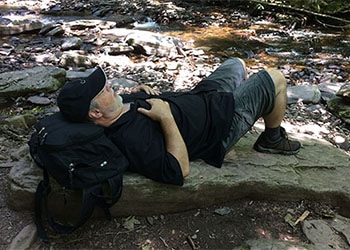 The hike down to the flat area, aptly named "Waters Meet," took us about an hour and a half and had our legs burning. Since we'd started mid morning, we were ready for our lunch when we reached the bottom of the glen. And after lunch came a rejuvenating nap – no bed but no problem – lots of flat rocks fit the bill!
Post lunch and rest, we tackled the trail up the other side of the glen. We expected the ascending portion of the trail to be the toughest. Surprisingly, we found that the way down was tougher on our bodies than the way up the other side, which was certainly a relief.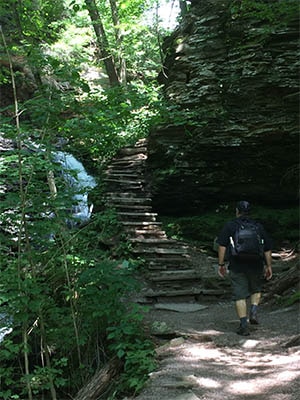 The beauty of this hike was incredible. We kept stopping to take picture after picture since each new waterfall and rock formation was stunning. Our pictures definitely don't do it justice. It was a warm, sunny day in August, but down in the glen the temperature and slight breeze was perfect. Plenty of other people were enjoying the trail that day, but not so many as to create traffic jams on the pathway. Some even had dogs with them; mostly larger dogs, since the distances between steps would be prohibitive for small dogs.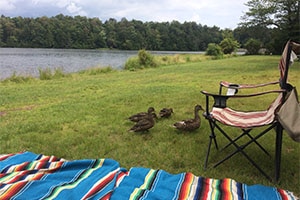 On our final day, we went back to the park to enjoy Lake Jean. The kayak rental business was closed for the day so only one of us went out in our own kayak and fished, while the other enjoyed some reading time on the shoreline. All in all a terrific trip.
If you ever have the opportunity, be sure to make time to visit Rickett's Glen State Park and take a hike down through Falls Trail. It's truly a memorable experience.