Top 5 Pop Up Camper Fans Reviewed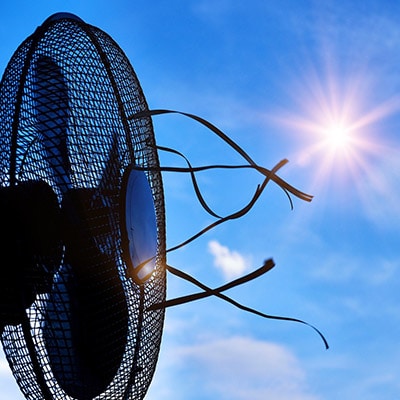 Pop up campers are economical and fun – they allow you to experience the great outdoors, while providing more comfort than being in a tent and sleeping on the ground. Ah, nature! By unzipping the bunk tenting you get cool breezes blowing through. Except when it's not cool out, or there's no breeze blowing, or when the massive RV in the next site blocks the breeze. What to do when that happens? Get a fan that's best for a pop up camper.
And besides enhancing the breeze outside, sometimes it's just nice to have a bit of white noise when it comes time to sleeping. We took a look at the top fans that would work well for pop up campers, and decided to review them all in one place. Since each situation is different, you can find the fan that will work best for your particular pop up.
Preview
Top Choice


Budget Option



Type
2 rechargeable Lithium ion batteries & USB
12 volt, hard-wired & installed in roof hole
Top Choice
Preview

Preview

Budget Option
Preview

Preview

Type
2 rechargeable Lithium ion batteries & USB
Preview

Type
12 volt, hard-wired & installed in roof hole
Best Pop Up Camper Fans
This fan/light combo comes out on top for us. It plugs into any 12 volt socket, which comes standard in most pop ups. The coiled cord will reach approximately 8 feet away from the outlet. The fan has two speeds, so you have a greater variation in the amount of breeze you are creating. Honestly, we've noticed that the sound the fan makes is also directly related to the speed you choose – if you are looking for a louder white noise, simply select the faster setting.
What makes this fan so perfect for pop up campers is the fact that it has three clamps attached to it. One clamp is located on the end of the fan, and two are on the back of the fan. The way we use it (actually we own two of these) is during the daytime we have it clamped on the end position from a shepherd's hook in either a bunk end or over our dinette, with the light facing downward. This seems to move the most air around the camper, and also serves as a light while we play games or eat. At bedtime, we attach the fan by the clamps on the back over our bed. This keeps the fan up higher (in case anyone gets up in the night), and also the breeze blows directly down on us.
There have been some people who complain that the plastic clamps can break off. We have not had a problem, but we are careful when moving the fans just to be sure.
Lumitronics RV Portable 12V LED Interior Bunk Light and 2-Speed Personal Fan Combo - Quiet Motor - Reading Light with Extendable 8-Foot Cord - On/Off Switch - Mounting Brackets Included
ADDED FEATURES | This high-performance fan light comes with an 8-foot extendable coil cord to easily move wherever you need it. Cooling fan has two adjustable speeds for the most comfortable camping experience. Rocker-style switches for independent operation of the fan and the light.
DURABILITY YOU CAN TRUST | Bright long-lasting LED light. Strong wind fan with a long-life thermally protected motor. Durable polycarbonate lens and high impact-resistant plastic housing. All this means your portable pop-up camper fan light will be with you for years to come. Certified CSA-approved.
EASY INSTALLATION | This nearly 10-inch tall bunk light with a fan is super easy-to-install. Mount or hang inside in an RV, or onto tent poles, using the included clamps for easy portability. Long lasting LED circuit board will never need replacing. Compatible with ¼" accessory outlets ONLY.
QUALITY GUARANTEE | Lumitronics is the best place for recreational vehicle lighting and accessories. We stand behind our products and guarantee your satisfaction with every order.
USA SUPPORT - Lumitronics is an American company with American customer support. We are here for you!
This fan differs from our top fan in that it needs to be hard-wired into your pop up. But since it runs off a 12-volt power source, you can tie into the wiring and screw this fan to a location that won't be disturbed when you collapse your camper. And it doesn't need much space when you fold up the pop up, since the Sirocco fan itself folds flat when not in use. Or you could splice in a power cord, which would allow you to plug into an existing 12 volt outlet. The reason this fan has our kudos is due to its clever 360-degree turning capability. That means that you can turn the fan any direction at all to maximize the breeze. It runs quietly and has 3 speeds and 4 timer settings, all with a very low power draw.
This fan is a bit pricy, and as we mentioned, it needs to be hard-wired. In addition, there have been a few reports of customers receiving non-working units, so be sure to check yours out as soon as possible if you decide to order a Sirocco.
If plugging in a fan or wiring in a fan is not what you are looking for, then check out the battery-powered Odoland model that's small enough to throw in your backpack and take with you on a hike. This fan has a hook on the end so it can be hung from a shepherd's hook over a bunk, or from any hook in or outside of the camper. The fan also folds onto itself to create a stand, which allows it to sit on any flat surface. It can be rotated in 360 degrees, making it very versatile.
As mentioned, the light portion is LED, made up of 18 individual bulbs that cast a decent amount of light. But if you have a larger pop up, you will likely want more than one of these fans to cast enough light and move enough air to cool things off. It doe not come with the required batteries (2 D batteries). The manufacturer reports that it will last 5 hours in high speed mode, and 15 in low; consumers report that it actually lasts much longer on one set of batteries.
Sale
Odoland Portable LED Camping Lantern with Ceiling Fan - Hurricane Emergency
Why You Need This Great Camping Gear: Spending A Night Outdoors Is Something Everyone Should Experience. So You Want Something To Help You See At Night. A Lantern Is Super Useful For Camping So You Can Make Your Way Around The Campsite And Your Tent Easily In The Dark.
Versatile Light/Fan: Ultra Bright 18 Individual Low Powered Led Bulbs. The Fan Has High And Low Settings To Provide Nice Air Circulation And Lit Up The Tent Nicely. You Can Orient In So Many Positions.
Powerful Fan Speed And Bright Lighting: High Quality Brushless Motor For Whisper Operation, Max Wind Speed 10Ft/S, Strong Airflow And 2 Setting Speeds, It'S Great To Fresh The Air And Keep You Cool.
The Extremely Lightweight Build Allows You To Take Your Lantern On The Go With Ease. When Not In Use Collapse The Lantern To A Smaller Size; Store It Effortlessly, Taking Little Space.
Light Up To 37 Hours Of Regular, Continuous Use With Enough Battery Capacity. 2 D Batteries Can Keep The Fan Work For 5 Hrs In High Speed Mode, And 15 Hrs In Low Speed Mode, 20 Hrs For Led Light (Battery Is Not Included).
Another battery-operated fan, the Amacool differentiates itself from our last choice in that it uses rechargeable batteries that come with the fan. In addition, it works off a usb cord as well. So if you have a usb outlet in your pop up (or if you have an outlet plug extender with usb plugs like we do), then you can plug this fan in and you are good to go.
The Amacool fan not only has 3 different fan settings, but it has 3 light intensity settings as well. And it has the hook on one end to hang it where you like, and it has a base to allow it to sit flat on a countertop. The fan does the swivel-in-360-degrees move, making it perfect to direct the air where you want. Once again, if you have a larger pop up, you may want to have more than one of these fans to serve the whole family.
Sale
Portable Camping Fan with LED Lantern- 40H Work Time Rechargeable Battery Operated Fan with Hanging Hook for Tent Car RV Hurricane Emergency Outages Survival Kit
BORN FOR CAMPING: This upgraded portable fan combines tent fan, camping light and aroma diffuser, circulate air evenly, lights up your tent or campsite in darkness
VERSATILE PLACEMENT: This camping fan has a built-in hook to hang it on the tents, branches or inside a car. It can be mounted on wall as well as simply placed on desk at home or in office. It's also a great companion for your baby and pets
Powered by rechargeable 5000mAh batteries (built-in),it can last for 5.5-40 hours depending on speeds, 147-440 hours depending on brightness. It also operates via USB cable connected to laptop, car charger, Power bank and etc. Perfect fit for both indoors&outdoors
Set with 3 speeds, Whisper operation, Manual 360 degree rotation vertically and horizontally, ventilating air efficiently for a more comfortable space; equipped 12 bright LEDs with 3 brightness for different purposes like reading, illumination
Portable Compact: The travel fan is of mini size (2. 4*5. 3*7. 1 Inches), lightweight (11. 3oz), easy to take on the go and store. It reduces the weight/space of your backpack by saving from taking separated fan and light
Finally, if you are looking for a more permanent solution to your air flow issues, and if you are willing to cut into the roof of your camper, you may like the Fan-Tastic RV Roof Vent. It is made by Dometic, a big name in the RV world. It's made to fit a standard 14-inch by 14-inch opening, so if you have the opening already from either a previous fan or from a failed AC unit, this fan would be a snap to install.
It has 3 different speeds, and the manual-lift dome (knob inside the camper) seals tightly to prevent water coming in if it rains. (If you want to still be able to use it when it's raining, you can install a roof vent cover just as easily.) This fan makes very little noise, so if you are looking for that white noise to fall asleep to, this may not provide enough for you. But the 12-volt fan hooks up to your existing wiring an provides a great level of air flow.
Fan-Tastic Vent RV Roof Vent, 3-Speed Manual Crank RV Vent Fan, Smoke Dome RV Vent Cover - 1200 Series - White
MODEL 1200 - This lightweight, compact, and durable vent fan seals tight when not in use. Powerful 12 in, 10-blade fan quickly moves air in and out of cabin.
THREE-SPEED FAN - The core of this truly fantastic ventilation solution is a high performance rotary fan that features three blade speeds; low, medium, and high.
NO NOISE - Warm and stale air out, fresh and clean air in. Dometic FanTastic Vent does it in a matter of minutes. It's pleasantly quiet and energy saving, too.
EASY TO USE - The manual lift dome ensures the FanTastic Vent is easy to use.
PERFECT FIT - Fits standard 14 inch x 14 inch openings. White, high profile base and smoke dome.
Conclusion
There's no need to put up with the heat when you are camping in your pop up. Solutions abound. Our top choice, the Lumitronics 12-volt plug-in fan, will bring you the sweet relief you are looking for. Better yet, grab 2 in order to really get the breeze swirling!
Video
If you do purchase our top pick and by chance the plastic clamps break, here's a clever and easy fix: