Camping In Comfort
Welcome! Experiencing the great outdoors with family and friends can be wonderful, especially when you can enjoy the comforts of home without breaking the bank. Sometimes "camping" conjures up images of a spartan-like experience that requires a grit-your-teeth-and-bear-it attitude. But in our opinion, that's not going to create the kind of fun-filled memories for family and friends that we're after. We want to include all the best parts of being home (like soft beds and yummy food) with the sights and adventures best had around campfires and out in the beautiful outdoors.
So to help you enjoy your journey, we provide tips, tricks, and recommendations to make camping a comfortable, convenient and comprehensive experience.
Planning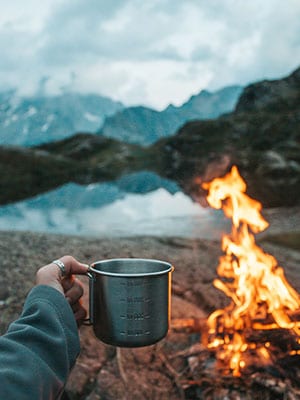 For some of us, planning a trip is half the fun – it makes the experience last longer. For others, planning seems to take away the sense of care-free adventure. Wherever you are on the spectrum, we'll help provide the guidance to enhance your camping experience and minimize the pain.
We talk about evaluating what type of camping will work best for you and your family. You may be interested in tent camping due to its affordability and flexibility. Or perhaps you'll be using a pop-up camper. For some, pulling a trailer is the perfect solution. And for others, a drivable RV such as a Class A or Class C makes the most sense.
A big part of planning is determining where you will go for your camping adventure. We compare state parks, camping resorts, and boon docking in off-grid locations. And when you go camping plays a role in your decision making: camping has peak seasons when you'll pay a premium in certain locations, and off-peak seasons that can stretch your camping dollars. Finally, you'll need to consider the length of time you choose for your camping trip. Will it be a quick weekend adventure, or will you be taking an extended trip? We'll help you work through your options.
It may be that you can get to your camping destination the fastest by jumping on the highway and rolling out. But is that to your advantage, or would you be better served by taking the side roads and enjoying eye-catching scenery that you'd miss by barreling down the freeway? Determining your goals for this camping trip can help you make choices you won't regret later.
Set Up
Once you get to your destination, you are still faced with choices. What's the best type of site to choose? And when you get to your campsite, does it matter how you set up your tent or camper? You bet it does! We provide tips to maximize your comfort and enjoyment by detailing site set up so you can set-it-and-forget-it! Because you are here to vacation, not to be constantly rearranging camping equipment.
Gear
There's no end to the gear you could buy for camping. And most of us have limited budgets for our camping adventures. But not all of the items being marketed to you are worth their while. We list some of the must-have equipment as well as the don't-bother-with-it stuff that will only empty your pockets.
Cuisine
Food is necessary for life, but it's also an opportunity for creativity and bonding with others. Sometimes simple meals are what make sense to leave the most time for hiking, biking, and other activities. But sometimes we crave the comfort foods of our childhood, and we want to pass those along to our own children and friends. And just because you are out in the wilderness is no reason you can't create some of the most delicious and beautiful meals you've ever had! We've got loads of recipes and how-to's to set your mind at ease about enjoying eating while camping.
Adventures
We travel to our camping destinations for relaxation and adventure. Are you interested in swimming, hiking, biking, boating, or other activities while camping? We've got insight into how to make the most of your camping days and creating memories that you and your family and friends will cherish forever! Let's go camping!!