The Top 4 Levelers To Use For Your Camper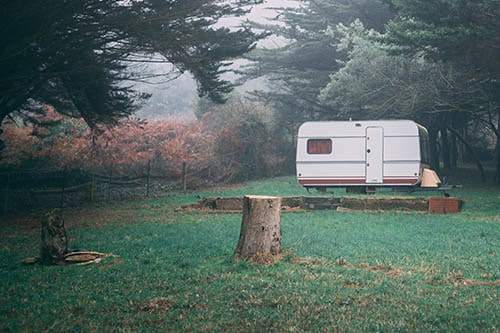 One of the first things you need to accomplish when you pull onto your campsite is to level your camper. Yes, we all wish that every campsite was perfectly level. But that is not reality. In fact, some sites are seriously off-level! But you have many options to fix this issue. The question is, how much time and effort do you want to put into this dreary job?
We've experimented with a number of methods for leveling your camper, from the free stack-things-up-under one wheel approach, to the higher-priced-yet-oh-so-fast method to get on with the fun part of camping! Below are the top 4 choices along with all the details. But for those of you who just want the bottom line, our top choice for the best camper leveler is the BAL 28050 Light Trailer Tire Leveler.
Preview




Leveler
Heavy Duty Leveling Blocks, 10 Pack
Hopkins 08200 Endurance with Chock
Preview

Preview

Preview

Leveler
Heavy Duty Leveling Blocks, 10 Pack
Preview

Leveler
Hopkins 08200 Endurance with Chock
Best Camper Levelers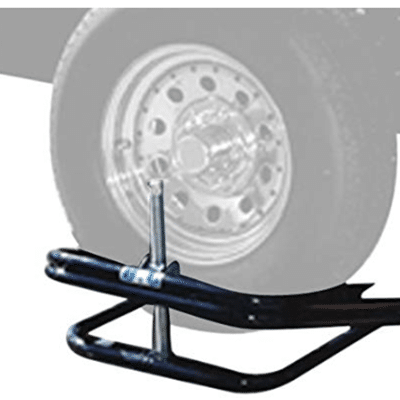 If you have a pop up camper (as we do) or a light-weight trailer, this is hands-down the best way you can level your trailer in a hurry. Made of a heavy metal with a corrosion-resistant coating, the BAL leveler slips around the camper's wheel (designed for single-axle campers with 13-15 inch wheels) on whichever side of your camp site is lower, and quickly can be adjusted with the included ratchet wrench and drive screw. By turning the screw with the wrench, the lower wheel is lifted bit by bit until your camper is level. With this clever tool, you can pull into your site, place the camper where you want it, and get out of your car or truck and level the camper at once without driving it back and forth over a series of boards, blocks, or other items until you find the perfect height.
The three-piece system weighs in at a substantial 14 pounds, so many people find that using a carrying case is helpful. And guess what the majority of people buy? A pizza carrying case. Believe it or not, the Winco Pizza Bag makes life simpler and easier to carry and store your leveler. And we are all about easy!
BAL 28050 Light Trailer Tire Leveler
Light Trailer Tire Leveler can be used with the Single Tire Locking Chock
Eliminates the need for moving trailer onto blocks or ramps
Fits 13", 14", & most 15" wheels
Includes a ratchet wrench that can be used to turn the drive screw, elevating or lowering the tire lifting pads to the level position
Corrosion-resistant finish for long life. Do not use a cordless drill or cordless impact to operate the product unless the drill has an adjustable chuck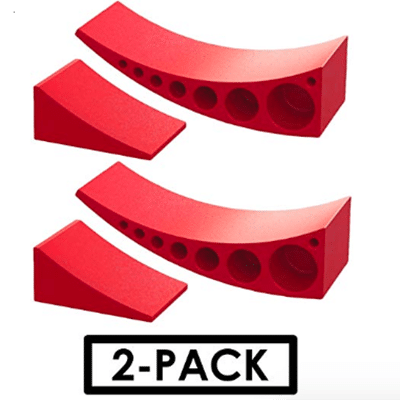 If you have a double-axle or heavier trailer, you can choose the Andersen 2-Pack Leveler & Chock Kit. This set is a simple solution for leveling your travel trailer, 5th wheel, or drivable RV, provided you're not off level more than 4 inches. These curved blocks will work for trailers up to 30,000 pounds and with tires up to 32 inches in diameter.
It is simple to use, but helpful if you have another person to read the bubble levels while the driver slowly drives up on the curved Andersen leveler "blocks." If you want to be able to level the trailer alone, using a system like LogicBlue Technology LevelMatePRO Wireless Vehicle Leveling System sets you up to level your trailer single-handedly. The LogicBlue system does require an installation of the unit inside the trailer, and an initial calibration to your unit which can take up to an hour. But once it's installed and calibrated, you're able to pull into a site and level your trailer in minutes.
Sale
ANDERSEN HITCHES | RV Accessories | 2-Pack Camper Leveler System Must Have RV | Camping Travel Easy Storage Jack Stabilizer Block | Levelers Blocks for Campers and Fifth Wheels | 3604
????[MUST HAVE FOR CAMPERS OR FIFTH WHEEL]: Works great on trailers up to 30,000 lbs and with tires up to 32" diameter. The Andersen Camper Leveler provides 'dead-on' leveling at any increment from 1/2" to 4" - no other leveler is this precise - or this easy to use!
????[EASY TO USE]: Just drive on, decide how high you want it and place the chocks! You'll be ready to go dirt biking or hiking in no time- It's that simple to use. You'll never want to travel without this leveling system again!
????[FAST & PRECISE LEVELING]: Avoid the hassle of setting up your camper with travel trailer leveling blocks or wooden planks under your tires. Make trailer leveling a fast and precise task. Simply level your trailer any increment between 1/2" and 4" in less than 5 minutes.
????[BUILT IN USA]: As a US-based company, we are here to create premier towing products that improve the journey from point A to point B. That's why we don't just make hitches for trailers, we make hitches for people like you--the recreational travelers, hard workers, and avid sportsmen.
????[MONEY BACK WARRANTY]: Your satisfaction is our only pursuit. If you have any trouble for any reason at all, we will refund or replace this item for you. We hope that you enjoy your camper levelers!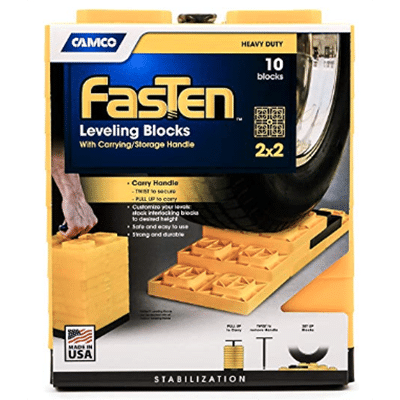 Camco is a manufacturer of many camping products, and the classic yellow leveling blocks are no doubt one of their biggest sellers. The blocks can be used by any type of camper (although some people with dual tires said these are just not wide enough). They can be built into a ramped stack to reach the necessary height to level your camper. The blocks can be stacked up to about 4 inches. Though you might think you could get another set to add more height, the manufacturer does say you shouldn't exceed about 4.5 inches. A second set can come in handy to use under your jacks or stabilizers.
One of the best points about this set of leveling blocks is that when you are not using them, they stack together and come with an integrated handle for easy carrying and storage. But using these blocks as your leveling method does mean that you may be driving your camper on and off of the blocks until you reach the desired height to make your RV level. And since this set doesn't come with chocks, you may want to add the matching Camco chocks if you get them.
Sale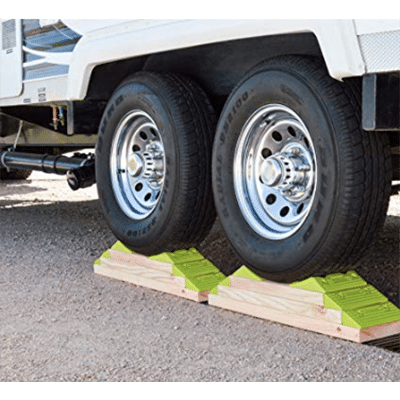 If you don't mind doing a small part of the construction, then the Hopkins Towing Solutions Leveling System might be what you are looking for. The set comes with a series of ramps, wheel docks, hardware, and instructions for you to use in creating the perfect-sized leveling system for your camper. You only need to supply an 8-foot 2×8 piece of wood (and a saw) for you to complete the process. The kit also comes with a non-skid traction mat to keep the blocks from sliding while you drive your camper up on them.
One advantage this system has over the others is that it is customized to your RV. And when you've constructed the set, the top-most board will act as a wheel dock to keep your tire from slipping back down the ramp. And as mentioned, you've also got a wheel chock included for additional stabilization. The primary complaint seems to be the difficulty in storing the combined boards and ramps when you are done: the lumber has a certain amount of weight, and the lowest board in the ramp can be fairly long. But in general, buyers give high marks to their effectiveness and the fact that they don't tend to kick out when driving up on the constructed ramp due to the non-skid mat included with the set.
Sale
Hopkins 08200 Endurance RV Leveling System with Wheel Chock
A complete RV leveling system that forms a solid structure to keep your RV level
Combines both wood and reinforced plastics for durable construction
Non-skid traction mat prevents slipping while in-use and functions as carrying strap
Wheel dock and chock secures entire trailer from rolling out of position
How To Level Your Camper
Want to see someone actually level a camper? This video by an RV dealer shows how to level a travel trailer using a different Camco product, the Camco Drive On Leveler.