Reviews of the 4 Best Propane Grills for Camping
It's no secret that one of my husband's favorite things about camping is cooking. For him, a pleasurable cooking experience isn't restricted to our kitchen at home. He fully expects to be able to create delicious meals at our campsite, and to enjoy the process. So that means having a grill that can be trusted to perform well no matter what type of campground we're at. In this post, we'll talk about propane grills only – we'll leave charcoal, butane, and others for another time.
For those of you in a hurry, our top choice for best propane grill for camping is the Coleman RoadTrip 285 Portable Stand-up Propane Grill.
Preview




Grill
Giantex Tabletop Stainless Steel
Preview

Preview

Preview

Grill
Giantex Tabletop Stainless Steel
Preview

Best Propane Grills For Camping

This is the primary grill we use for camping and we love it. In fact, it is also our home grill. It usually lives out on our deck (under the Classic Accessories Veranda Grill Cover). Because this grill folds up and has wheels, it's a snap for us to pack it up and throw it in the truck for our camping trips.
This grill can run off of the small 16 ounce propane fuel cylinders, and it can be attached to larger propane tanks as well with an LP adapter hose. It offers lots of grilling space on two heavy-duty removable grates, plus two shelf-like surfaces on the sides for holding utensils, dishes, and such while cooking.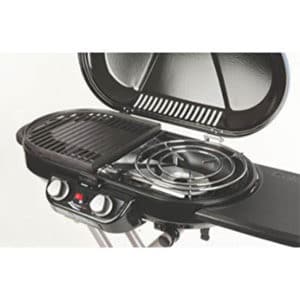 One of the reasons we chose this model is its versatility. We purchased the optional "swaptops" that allow you to change out the grates if you want a different cooking surface. One option is the Swaptop Steel Stove (shown on the right half of the grill in this picture). We wanted this for heating water, either for making coffee or for washing dishes. The other option is the Swaptop Cast Iron, perfect for making pancakes.
A downside to this grill is that, while it is portable, it is not compact. We can put it in the back of our Tahoe, but it takes up too much room to store in our pop up camper. So if space is an issue, keep reading.

The Weber Q1200 is a portable powerhouse. While the cooking surface is smaller than our first choice, the Coleman RoadTrip (189 square inches of cooking surface vs the RoadTrip's 285 square inches), the size of the grill makes it much more portable than our number one pick. The cast-aluminum cookbox measures a very-packable 15.5 inches high by 16.5 inches deep by 24 inches wide, and can handle high heat. The lid has an embeded thermometer so you can keep the heat at any temperature you need for cooking with precision. Another feature that makes this grill a great choice is the foldable shelves/tables on the sides. When not in use, they fold under the lid so you can stow the grill away easily (just don't make the mistake of starting the grill before unfolding the shelves). It works with the 14 or 16 ounce propane cylinders. And with an LP adapter hose you can hook it up to your larger propane tank. Some people have complained that the smaller cylinders can be difficult to attach due to the configuration of the grill.
The two cooking grates are made of an easy-to-clean porcelain-enameled cast iron, and like the Coleman RoadTrip, can be swapped out with a cast-iron griddle to expand your cooking options. And from an aesthetics point, this cute grill comes in six different colors to express your personality!
Another benefit of this grill is that while it allows you to grill at a wide range of temperatures, the Weber Q1200 is safe to use on a camp table or your tailgate; it's not going to cause scorching or bubbling of the surface it sits on. For times when you can't be sure of having a picnic table at your campsite, you may want to pick up the coordinating Weber 6557 Q Portable Cart. It folds flat, and then when expanded, it has a locking mechanism that allows you to snap your grill in place on the stand. It even has hooks to hang your cooking utensils.

Sale
Weber Q1200 Liquid Propane Grill, Black
One stainless steel burner produces 8500 BTU-per-hour to heat 189 square-inch total cooking area
Porcelain-enameled cast-iron cooking grates and cast aluminum lid and body
Dimensions - lid closed and tables out (inches): 15.5H x 40.9W x 16.5D inches. Fully assembled out of box. Uses disposable 14.1 or 16.4 oz. LP cylinder (sold separately)
Easy-start electronic ignition and infinite control burner valve settings
Care instructions: Handling the brass material on this product exposes you to lead, a chemical known to the State of California to cause cancer, birth defects or other reproductive harm. (Wash hands after handling this product.)

We love the quality of this stainless steel tabletop grill! It has a high-quality feel to it. Measuring 22 inches wide by 18 inched deep by 15 inches high (when foldable legs are fully extended), this grill is compact yet offers enough grill space to cook for 4. Unlike our first two grills, the cooking grate inside the Giantex grill is made of stainless steel which is preferred by some for easy cleanup (you'll likely want to use oil or spray to season the grate before using so your food comes off easily after cooking). The grill puts out 20,000 BTUs from its two separately controlled burners, which is the same level as the Coleman above, and twice that of the Weber. It has a temperature gauge and comes up to temp quickly. In addition, the lid locks in place for easy transport.
Unlike the former grills mentioned, this grill comes with a hose to connect to the larger propane tanks. It requires an adapter to use with tanks in the one-pound range.
This Giantex grill has terrific reviews, but one important factor stands out – customer service. If your grill has an issue, the people at Giantex are known to be very responsive. A great benefit if you end up needing it.

Sale
Giantex Portable Gas Grill with 2 Burner, Max. 20,000 BTU total, Folding Legs, Built-in Thermometer, Travel Locks, Stainless Steel Tabletop Propane Gas Grill for Camping Picnic Cookout RV BBQ
【Giantex Tabletop Grill】: Giantex 2-Burner stainless steel tabletop grill is built for the BBQ-grillers, Construct of 430 stainless steel offers durability and easy-to-clean surfaces.
【Easy To Operate】: Two push-and-turn ignition burners for quick and easy start-ups. It offers 20,000 total BTUs and reaches high temperatures quickly with each burner independently adjustable.
【Foldable Design】: Foldable legs and lockable lid for portable transport and storage. Also make it more easily transportion or storage.It is perfect for dinner party and camping.
【Light-weight & Safety Use】: CSA standard approved gas grills. Light-weight and with locking hood for transport and storage.
【Widely Use】: Perfect for tailgating, camping, picnics, boating or anywhere your travels take you. Overall dimensions: 22" x 18" x 15" (L x W x H) is suitable for home using, Easy assemble is required with all hardware packed in the package.

The Char-Broil Grill2Go made our list for several reasons. This grill is made to endure abuse – it has a rugged construction that makes it fit for moving around often. It has one burner rather than two, so it's only going to put out up to 9,500 BTUs. But the good news is that makes it lighter than all the other grills we're featuring except for the very lightweight Coleman Classic grill below.
The cooking grate on the Char-Broil is stainless steel, like the Giantex above, which some prefer for ease of cleaning. Char-Broil has been in the grill game for a long time, so their years of experience inform the build of this mighty little grill. It comes equipped for use with the one-pound propane cylinders, but a simple hose attachment will allow it to be connected to larger propane tanks.
One of the features that sets this grill apart is that it uses "TRU-Infrared" technology rather than convective heat (hot air) to cook your food. The difference is that this method uses a radiant heat, limiting hot air flow, which results in juicier meats since they are not dried out as much as traditional methods.
We dropped this grill down to fourth place for one reason – complaints that it runs too hot and doesn't have good temperature control. Some have found that by purchasing a control valve and adapters that they can much more easily control how hot the grill gets. It is reported to heat up very quickly, which does give it an advantage over some other grills.

Sale
Hooking Up A Propane Grill To An RV
If you are camping with an RV, this video by Trailer Life and Good Sam showing how to hook up your grill to your RV may be useful. Just a few connecting pieces and you are all set to grill away!